GEORGIOS BANQUETS, QUALITY INN & SUITES CONFERENCE CENTRE
I-80 Exit Route 45 North or I-294 South to I-55 North to Rt 45 on Route 6 8800 West 159th Street | Orland Park, IL 60462 | (708) 403-1100 | (800) 424-6423 | (708) 403-1105 fax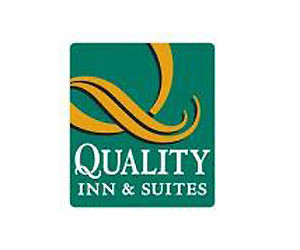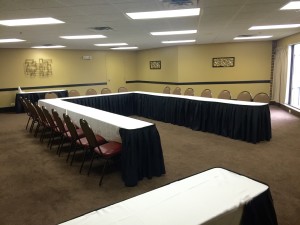 Welcome to Georgios Banquets, Quality Inn & Suites Conference Centre, as one of the most popular places to celebrate, dine and spend the night in the south suburbs of Chicagoland. Georgios offers a rare suburban luxury: a newly remodeled hotel and conference centre encompassing our banquet facility. Georgios is capable of hosting up to 1200 guests in our 25,000 sq. foot facility. Come relax in our 150 NEWLY renovated sleeping rooms and enjoy our new on-site restaurant and lounge.
As you enter Georgios Banquets, Quality Inn & Suites Conference Centre through the main hotel lobby, you immediately notice the attention to detail…from the spiral staircase to the tastefully chosen colors…your wedding or special occasion deserves this kind of luxury. Georgios Banquets features your choice of four ball rooms: the Sunset, Ravinia, Starview and Clarion. All of our Banquet Rooms encompass Grand Chandeliers, a Beckoning Dance Floor, a Personal Staircase, 18' Ceilings, Private Hospitality Room & Windows or Skylights creating an Intimate Elegant Atmosphere for your Guests!
Meeting Facilities & Services
Our facility encompasses approximately 25,000 square feet of flexible conference, meeting and banquet space. Thirteen elegantly furnished multifunction rooms and a magnificent 15,000 square foot grand ballroom are perfectly suited for any business or social occasion up to 2,500 people. High speed internet is available in banquet and conference facilities. Our attentive staff, comfortable function space and great location make us the perfect choice for your next conference, meeting or banquet.
Accommodations
The property features 149 newly renovated sleeping rooms, with 32 suites (12 extended stay suites are also available). To compliment our hotel, guests enjoy the following room amenities: Free high speed internet access, hair dryer, iron and ironing board, safe, refrigerator, microwave, coffee maker and oversized work desks. Hotel guests also enjoy complimentary hot and deluxe continental breakfast, coffee (24 hours a day) and weekday newspaper.
Area Amenities
Georgios Banquets, Quality Inn & Suites Conference Centre is conveniently located to area businesses, golf courses, shopping, many restaurants and entertainment. Airport & Transportation Midway Airport is 22 miles away with O'Hare Airport 34 miles away. The Metra Commuter Rail station is 2.9 miles away.
Rewards Program
Choice Privileges 10 points per every $1 dollar spent for individual reservations (Group Blocks Do Not Apply)
Area:
Area 2
Free Parking
Facility Info:
Number of Meeting Rooms: 13
Largest Room: 15,000 sq. ft.
Total Square Feet: 25,000 sq. ft.
Banquet Capacity: 1200 people
Meeting Room Layouts
| | | | |
| --- | --- | --- | --- |
| Number of Guest Rooms | 117 | Number of Suites | 32 |
| ADA Compliant Rooms | 6 | ADA Compliant Rooms with roll-in showers | 0 |
| Business Center | Yes | Check In | 3PM |
| Check Out | 11AM | Continental Breakfast | Yes |
| Covered Overhead Entrance | Yes | Data Ports (in room) | Yes |
| Electric Vehicle Charging Station | Yes | Entertainment | No |
| Fitness Center | Yes | Guest Smoking Rooms | 0 |
| Hair Dryer (in room) | Yes | Hardwired Guest Rooms | Yes |
| Hardwired Internet Common Area | No | Hardwired Meeting Space | $ |
| Interior Corridors | Yes | Iron & Board (in room) | Yes |
| Laundry Facilities | No | Laundry Valet | Yes |
| Local Cab Service | Yes | Microwave Available | Yes |
| Miles from Midway Airport | 22 | Miles from O'Hare Airport | 34 |
| Non-Smoking Facility | Yes | Non-Smoking Rooms | Yes |
| On-Site Catering | Yes | Pets Allowed | Under 25 lbs |
| Pool | Indoor | Refrigerator Available | Yes |
| Restaurant On-Site | Yes | Rollaway Bed | Yes |
| Room Service | No | Shuttle | No |
| Spa/Sauna | Yes | Wheelchair Accessible | Yes |
| WiFi | Yes | Wireless Internet Common Area | Yes |
| Wireless Internet Guest Rooms | Yes | Wireless Internet Meeting | Yes |
Dimensions
28ft. L 21ft. W 8.3ft. H
Dimensions
28ft. L 21ft. W 8.3ft. H
Dimensions
10ft. L 17.7ft. W 8.3ft. H
Dimensions
45ft. L 68ft. W 18ft. H
Dimensions
18ft. L 45ft. W 8.3ft. H
Dimensions
39ft. L 26ft. W 8.3ft. H
Dimensions
70ft. L 213ft. W 18ft. H
Dimensions
80ft. L 55ft. W 18ft. H
Dimensions
25.6ft. L 24ft. W 8.3ft. H
Dimensions
65ft. L 81ft. W 18ft. H
Dimensions
65ft. L 81ft. W 18ft. H
Events
FALL S FEST 2023
Nov 3, 2023 - Nov 5, 2023
Georgios Banquets, Quality Inn & Suites Conference Centre
8800 West 159th Street
Orland Park, IL
BRIDAL EXPO CHICAGO
Nov 19, 2023
Georgios Banquets, Quality Inn & Suites Conference Centre
8800 West 159th Street
Orland Park, IL