GOVERNORS STATE UNIVERSITY
Office of Admissions , 1 University Parkway | University Park, IL 60484 | (708) 534-5000 | (708) 534-8959 fax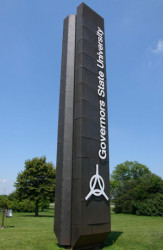 GSU has a history of excellence, access and innovation. In addition to graduate and undergraduate degree programs, GSU is home to the renowned Nathan Manilow Sculpture Park and the Center for Performing Arts.
Open:
M-F 7AM-11PM; Sa 7AM-10PM; Su 12PM-9PM
Area:
Area 5
Facility Info:
Number of Meeting Rooms: 9
Largest Room: 29,000 sq. ft.
Total Square Feet: 56,218 sq. ft.
Notes: Classrooms and other meeting space can only be rented in conjunction with the rental of the Center for Performing Arts.


| | |
| --- | --- |
| Wheelchair Accessible | Yes |
Center for Performing Arts
Dimensions
100ft. L 85ft. W 50ft. H
Center for Performing Arts Arena
Dimensions
60ft. L 90ft. W 24ft. H
Dimensions
30ft. L 46ft. W 20ft. H
Dimensions
40ft. L 54ft. W 20ft. H
Dimensions
32ft. L 44ft. W 20ft. H
Dimensions
46ft. L 42ft. W 20ft. H
Dimensions
56ft. L 88ft. W 30ft. H
Dimensions
48ft. L 32ft. W 10ft. H
Dimensions
58ft. L 58ft. W 20ft. H
Events
25 AND BEYOND GALA CELEBRATION
Jun 4, 2022
Governors State University Center for Performing Arts
1 University Parkway
University Park, IL
SUMMER MUSICAL THEATER CAMP: ENCANTO
Jun 20, 2022 - Jun 24, 2022
Governors State University Center for Performing Arts
1 University Parkway
University Park, IL
RED SUMMER
Sep 16, 2022 - Sep 18, 2022
Governors State University Center for Performing Arts
1 University Parkway
University Park, IL
RED SUMMER
Sep 23, 2022 - Sep 25, 2022
Governors State University Center for Performing Arts
1 University Parkway
University Park, IL
CHICAGO SOUTHLAND INTERNATIONAL FILM FESTIVAL
Oct 14, 2022 - Oct 16, 2022
Governors State University
One University Parkway , F1622 Auditorium
University Park, IL
AILEY II
Oct 15, 2022
Governors State University Center for Performing Arts
1 University Parkway
University Park, IL