TRINITY CHRISTIAN COLLEGE
6601 West College Drive | Palos Heights, IL 60463 | (708) 239-4831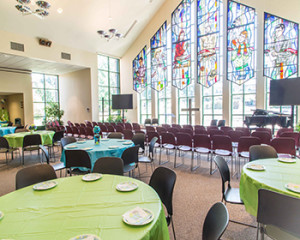 Trinity Christian College offers a picturesque setting on our beautifully wooded 60-acre campus with personal attention to large and small groups. Located just 30 minutes southwest of downtown Chicago, Trinity welcomes meetings, banquets and receptions all year long as well as conferences, family reunions and overnight accommodations during the summer. The Ozinga Chapel can host banquets, receptions, concerts and graduation ceremonies. Trinity offers excellent on campus catering as well as audio/visual services.
Area:
Area 2
Facility Info:
Number of Meeting Rooms: 34
Largest Room: 10,000 sq. ft.
Total Square Feet: 35,950 sq. ft.


Dimensions
19.1ft. L 39.1ft. W 8.5ft. H
Dimensions
24.3ft. L 45.9ft. W 13.3ft. H
Dimensions
38.4ft. L 51ft. W 20.2ft. H
Mitchell Memorial Gymnasium
Dimensions
101.8ft. L 107.4ft. W 24.1ft. H
Ozinga Chapel - Auditorium
Dimensions
261ft. L 104.2ft. W 40.4ft. H
Ozinga Chapel - Grand Lobby
Dimensions
42.1ft. L 75.6ft. W 16.6ft. H
Ozinga Chapel-Recital Hall
Dimensions
33.4ft. L 60.4ft. W 16.6ft. H