BLOOM TOWNSHIP HIGH SCHOOL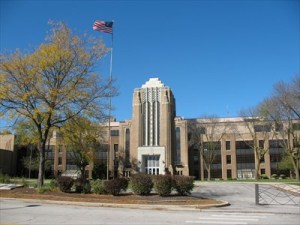 101 West 10th Street
Chicago Heights, IL 60411

708-754-1024




Contact: Jennifer Fisher

Open: Anytime-exterior viewing; Call for interior access

Area: Area 3
Group Rates: Free
Operating Season: Exterior viewings can occur year-round, interior access can be negotiated in advance
Suggested Length of Tour: 15-45 minutes


The school opened in 1934. It is nationally recognized as an outstanding example of public art deco architecture. The interior entry includes a remarkable set of wall frescoes by the American artist Edgar Britton. The library contains a large globe made by the Weber Cordello Company for Franklin Roosevelt. This school is on the National Registry of Historic Places.



Map
Note: Some map locations are approximate. Please call the venue at 708-754-1024 for exact directions.