JOSHUA P. YOUNG HOUSE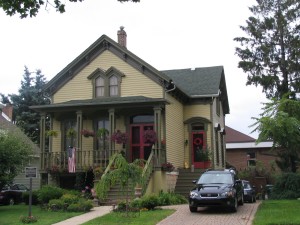 2445 High Street
Blue Island, IL 60406

(773) 233-0084




Contact: Vicki Sobczak

Open: Anytime (exterior viewing only)

Area: Area 2
Group Rates: Free
Operating Season: Open year-round
Suggested Length of Tour: 5-10 minutes


The unassuming 2-story house was the home and base of operations for one of the most influential persons in the development of the Southern part of Chicago. Young had key roles in land, housing and railroad developments. The house was built prior to 1850 by Carlton Wadhams, designer of the American House Hotel in Blue Island in 1844. It was sold to Young in 1852. This site is on the National Register of Historic Places.



Map
Note: Some map locations are approximate. Please call the venue at (773) 233-0084 for exact directions.