ART CLAY WORLD USA, INC./THE GREATER CHICAGO ARTISAN CENTER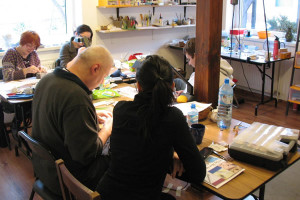 4535 Southwest Highway
Oak Lawn, IL 60453

(708) 857-8800
(866) 381-0100
(708) 636-5408 fax




Contact: Jen Bethmann

Open: M-Sa 9AM-5PM; Th 9AM-8PM

Area: Area 1
Group Rates: Yes
Operating Season: Open year-round
Suggested Length of Tour: 2 hours for an arts and craft class


We offer classes to individuals and groups, in metal clays, polymer clay, ceramic clay, pottery painting, epoxy clays, resin, glass fusing, chain maille and wire wrapping. Groups from 1-45.



Map
Note: Some map locations are approximate. Please call the venue at (708) 857-8800 for exact directions.