HOLIDAY INN CHICAGO MATTESON CONFERENCE CENTER
I-57 Exit Lincoln Highway East (Route 30) 500 Holiday Plaza Drive | Matteson, IL 60443 | (708) 747-3500 | (800) HOL-IDAY | (708) 898-2807 fax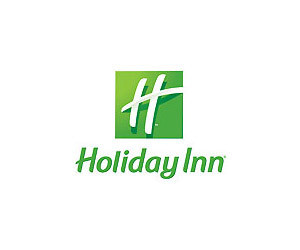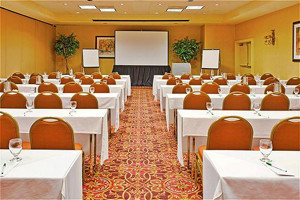 Chicago Southland's hidden gem, Holiday Inn Chicago Matteson Conference Center, is the premier spot for overnight accommodations, business meetings, elegant affairs and everything in between.
Meeting Facilities & Services
All your event needs can be met with 10,000 square feet of flexible meeting and banquet space perfect for groups of 10 to 1,200. Our professional Sales and Catering Team will assist you with every detail for all occasions.
Accommodations
The 200 remodeled rooms include Holiday Inn's signature Perfect Pillow, Bath and Body Works bath amenities, complimentary wired and wireless internet access, 32" flat screen TV, work desk with ergonomic chair and much more. All rooms have mini fridges and microwaves. The Hotel Lobby holds a state-of-the-art Bar Louie, family friendly with an extensive menu and drink special. Bar Louie Matteson is the largest 3D TV Bar in the world. EAT. DRINK. BE HAPPY
Area Amenities
Lots of restaurants, shopping and Metra stop within 2 miles gives guests great dining options and easy access to downtown Chicago.
Rewards Program
IHG Rewards
COVID 19 Procedures
At the Holiday Inn Chicago Matteson Conference Center your safety and well-being are our top priority. Come relax and experience the peace of mind in knowing that we not only continue to be a wonderful home away from home – your well-being continues to be our TOP priority. Below, we have provided an overview of our current cleanliness enhancements and recommendations.
For our Guests, because we care
Individual guest amenity cleaning kits and personal-use sanitizer/wipes for all guests
Visible sanitizer station in public areas and colleague spaces
New operating procedures to integrate social distancing signage and signals
Updated training on the enhanced IHG Way of Clean and certification by all appropriate staff members
Person Protective Equipment (PPE) guidance for staff
Departures: We have options
Leave key in room
Drop Key off with an agent in the lobby drop box.
Staff Training/Procedures on Cleanliness/IHG Standards
Launched The IHG Clean Promise and appointed Clean Champions to support the property team to ensure compliance.
All Keys are sanitized thoroughly before and after each use
Team members wear gloves, mask and protective gear when cleaning and preparing your room.
Housekeeping Service – includes deep cleaning with hospital-grade disinfectants in guestrooms and public spaces
Increased cleaning checklist of public space. Conducting more frequent deep cleaning of high touch surfaces, removed furniture for social distancing & best practices
Social Distancing Meetings Made Easy
Area:
Area 5
Free Parking
Facility Info:
Number of Meeting Rooms: 9
Largest Room: 9,126 sq. ft.
Total Square Feet: 9,702 sq. ft.
Banquet Capacity: 500 people
Meeting Room Layouts
Number of Guest Rooms
199
Number of Suites
3
ADA Compliant Rooms
14
ADA Compliant Rooms with roll-in showers
3
Business Center
Yes
Check In
3PM
Check Out
12PM
Continental Breakfast
No
Covered Overhead Entrance
Yes
Data Ports (in room)
Yes
Entertainment
No
Fitness Center
Yes
Guest Smoking Rooms
0
Hair Dryer (in room)
Yes
Hardwired Guest Rooms
Yes
Hardwired Internet Common Area
No
Hardwired Meeting Space
Yes
Interior Corridors
Yes
Iron & Board (in room)
Yes
Laundry Facilities
Yes
Laundry Valet
Yes
Local Cab Service
Yes
Microwave Available
No
Miles from Midway Airport
25
Miles from O'Hare Airport
47
Non-Smoking Facility
Yes
Non-Smoking Rooms
Yes
On-Site Catering
Yes
Pets Allowed
<50 lbs - $65
Pool
Indoor
Refrigerator Available
No
Restaurant On-Site
Yes
Rollaway Bed
Yes
Room Service
Yes
Shuttle
No
Spa/Sauna
Yes
Wheelchair Accessible
Yes
WiFi
Yes
Wireless Internet Common Area
Yes
Wireless Internet Guest Rooms
Yes
Wireless Internet Meeting
Yes
Dimensions
78ft. L 36ft. W 14ft. H
Dimensions
78ft. L 44ft. W 14ft. H
Dimensions
44ft. L 26ft. W 14ft. H
Dimensions
44ft. L 26ft. W 14ft. H
Dimensions
44ft. L 26ft. W 14ft. H
Dimensions
24ft. L 24ft. W 10ft. H
Dimensions
24ft. L 24ft. W 10ft. H
Dimensions
24ft. L 24ft. W 10ft. H
Dimensions
117ft. L 78ft. W 14ft. H
Dimensions
78ft. L 36ft. W 14ft. H